WINE MAKING
Chianti Classico- newly interpreted. Beside some hectar of woods and olive trees hains, 4 hectar of vineyards belong to the property, in three areas and consiting of each a half Chianti Classico and Chianti Colli Senesi.
THE WINEYARD
The plantation, 75% red raisins and 25% white raisins, had been more than 50 years old with some material damage. As a consequence the new establishment of the vineyards was mandatory in order to put costs and income into a reasonable ratio and – even more important- to achieve an improvement of the quality. During the end of the nineties the vineyards were redone with 6000 young plants per hectar, consisting of 90% Sangiovese and a small lot of Merlot and Cabernet Sauvignon. In the meantime the Vineyards reach the peak of maturity. The plants are deeply rooted which allows the enrichment with minerals and to overcome even dry summers. The production has balanced to an overall quantity of 12.000 to 15.000 bottles, substantially less than the legally allowed volume. A thorough farmers- work and cultivation during the whole year, including a permanent reduction of the maturing fruits are the pre-requisites for a decent vine.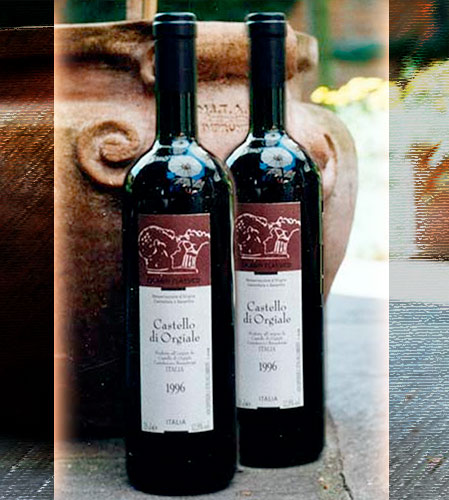 THE WINE
The effort is continued by proper work in the cellars: The control of the temperature during the fermentation process and –ultimately- the building of the particular taste in approximately 60 french barrique barrels. The product range of Castello di Orgiale looks as follows:
50% Chianti Classico and Chianti Classico Riserva (100% Sangiovese)
35% Chianti Colli Senesi (100% Sangiovese)
15% Vigna Solatio (75% Sangiovese, 13% Merlot, 12% Cabernet Sauvignon)
We are looking forward to having vine tastings for our guests, to enjoy the vine of the Castello and of further producers of the region. Along the avenue of the Chianti and in the near by situated region around Montalcino, home of the famous Brunello, numerous vineries can be visited; which also can be pre-arranged by us.